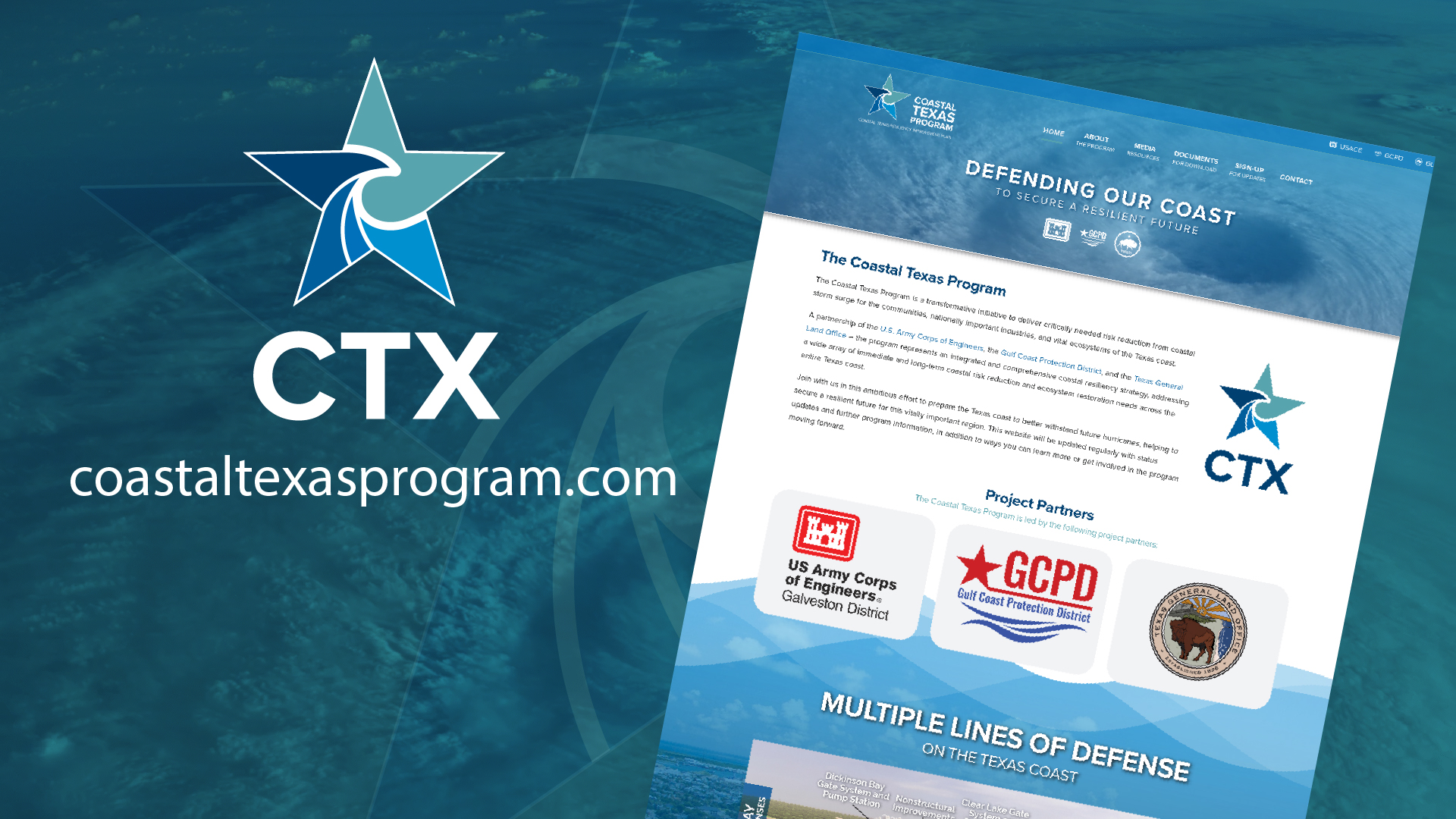 Welcome to the Coastal Texas Program Website
Thank you for visiting the new Coastal Texas Program website! After Congressional authorization as part of the Water Resources Development Act of 2022, the Coastal Texas Program website was created to support the transition of the Coastal Texas Program from the study phase into design and construction. Importantly, this website will serve as the single location for program information moving forward, replacing the prior www.coastalstudy.texas.gov webpage which was created for the study phase of the program.
How to Navigate the Coastal Texas Program Website
The purpose of this website is to provide you with the information and resources you need to stay informed about the Coastal Texas Program as the U.S. Army Corps of Engineers, the Gulf Coast Protection District, and the Texas General Land Office move forward with further study and environmental evaluation, design efforts, and future construction activities.
Each page within this site was created to keep the public, decision makers, and other stakeholders updated on the status of the Coastal Texas Program.
The Coastal Texas Program includes a combination of coastal storm risk management and ecosystem restoration projects that function as a system to reduce the risk of coastal storm surge damages to coastal communities and to restore degraded coastal ecosystems.
On this page you can learn about the Galveston Bay Storm Surge Barrier System, Coastwide Ecosystem Restoration Plan, and the South Padre Island Beach Nourishment Project.
You can also find an in-depth overview of the Coastal Texas Program, the program schedule, costs, and benefits and a link to the Coastal Texas Story Map.
This page includes several media resources like press releases and media fact sheets as well as upcoming and previous press outreach initiatives.
On this page, you will also find media contact information for each of the project partners.
Project renderings are also available for viewing and download on this page.
This page includes a number of documents available for download to provide more detailed information on the Coastal Texas Program.
Types of documents include the Coastal Texas Brochure, the Coastal Texas Chief's Report, as well as the concluding documents from the study phase, specifically the Coastal Texas Study Feasibility Report and Environmental Impact Statement.
Get in Touch
Public input is a vital part of the Coastal Texas Program, and we encourage the public to sign-up for project updates, reach out with questions, and to learn more about the Coastal Texas Program. You can provide comments and sign-up for the Coastal Texas Program updates on the Contact Us page. In the future, additional information will be posted to the website highlighting specific stakeholder engagement opportunities.
Sign up to receive program updates.